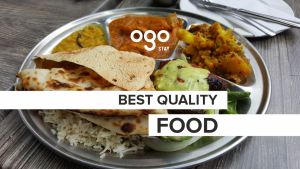 Moving in the new city student has to make so many changes in their life. the Student found themselves very tangled up and miserable, because of to do work' long list '. He has to get up early, take bath, have breakfast then they have to attend long hours of classes, take a never-ending lecture and a time-consuming activity happening from day to night. the Child gets so much tired and feels trapped in the vicious circle of coaching life and that's why sometimes forget to take care of them and forget to eat on purpose because of the quality or taste of the food.
Students do best to manage everything but still mess up things up. They start skipping meals and fall ill. As we know, Food is something which every human needs to survive on this earth. Food is directly related to health because if you will eat good food then you will automatically feel good mentally.
Ogostay ensures you and helps you to find the best hostels in Kota which gives you the best service and the best environment. Ogostay provides you a long list of hostels and PG available in Kota. Hostels we suggest provide best quality food to the student and keep in mind all hygienic process. So, your child doesn't forget to eat or skip it because of taste or quality. Hostel staff maintains the high level of standard and all possible measures are taken to ensure hygiene in the kitchen like Cleaning and Housekeeping of Kitchen and dining, Cleaning of utensils, cutlery, crockery, kitchen equipment, furniture, and mess. They care about everything and keep a check on the working of their kitchen area or mess.
The workers who work there are well behaved and follow all the provisions of ample liquid soap for hand wash at the basin and use good quality of soap for washing the utensils and clean towels to clean utensils. Ogostay assures on cleanliness and upkeep of premises and quality of provisions and quality of the food to everyone who is going to stay in the hostel. You can find the hostel near Allen at our site Ogostay.com whenever you need, we are just one call away.