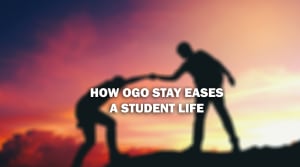 The Hostel is not a hotel rather it is a temporary home you look for and you should choose the best one and which you feel is most suitable for you. It's one of the important decision students has to make when they shift from one to another. You can find a hostel all around the boundaries and anywhere in Kota city. There is hostel everywhere scattered all over the city, in different areas and locations but Ogostay is here to help you out to choose the best among available.
Ogostay eases up everything for you and works as a helping tool to the students and gives assurance to parents that they are leaving their child at right after looking at the best option and we provide all the information and details related to hostels at Ogostay.com. A list of Hostel nearby your coaching area like, hostel near Allen samyak, Allen saakar, near resonance and more as per student need and affordability.
As we all know time plays a very important role in student's life because they have to plan out everything and make a schedule according to the goals they want to achieve in that particular time period and they have to concentrate on studies and need to coordinate between different classes and other things. There is a reason why you are choosing a hostel and if you are going to stay in the hostel for a long period then it must be near to your coaching building and college. Students have to wake up on time, sleep on time, have food on time, study on time, etc and by taking hostel nearby you will learn to manage time, By taking hostel near to coaching will help you to manage everything on time and student can utilize time efficiently and use all the time in the best possible way.